Can Filing for Bankruptcy Stop Home Foreclosure?
Feb. 11, 2021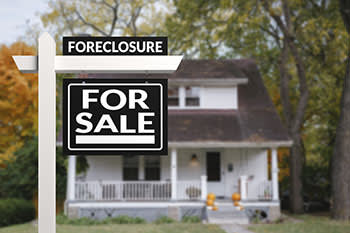 According to data compiled by RealtyTrac, 1 in every 27,085 housing units in Virginia was foreclosed upon in December 2020. The rate for Fairfax County was 1 in every 12,945 units. For Alexandria, it was 1 in every 7,499, for Falls Church, 1 in 11,175, and for Fairfax itself, 1 in every 15,840.
If you're facing a foreclosure in Virginia, you need to understand both the foreclosure process and the options you have for retaining your homeownership. Call us at Vivona Pandurangi PLC to speak with experienced Virginia bankruptcy attorneys who have helped countless others like you.
Reasons for Foreclosure
People fall into a debt crisis for different reasons — loss of income, costly healthcare or another sudden situation, living too extravagantly, personal incapacitation — but invariably it all boils down to owing more than you can consistently or reliably pay back every month. When the past due bills pile up, creditors take action. The constant phone calls, text messages, and emails begin.
Worse, when you fall behind on your monthly mortgage payments, you risk losing your home. Your lender can, in time, foreclose on your home and basically throw you out. That's the last thing you want.
According to studies, most people facing financial problems will prioritize. They'll pay their rent or mortgage, car payment, and basic essentials first and then parcel out what's left, if anything, for credit card and other debts. If you own a home, the point is not to let your mortgage payments fall into arrears.
The Foreclosure Process
Once you've started missing your mortgage payments, the lender can begin the foreclosure process, though, in the beginning, it may be just a reminder that your payment is overdue and a late fee has been added. After that, things get progressively more serious.
Federal law requires the mortgage holder — no later than 36 dates after a missed payment — to notify you of the alternatives you may have, which are known as "loss mitigation" options. These options will generally include a payment plan to make up for missed payments. No more than 45 days after a missed payment, the lender must specify your options in writing and assign personnel to help you.
Under federal law, the lender must wait until the loan is more than 120 days delinquent before beginning the foreclosure process. This will generally require the mortgage holder to send out a breach letter warning you that it can call the loan immediately due and proceed with foreclosure if you don't make up for your missed payments.
Under Virginia law, to sell your home through foreclosure, the lender must personally present or send to you an official notice not less than 14 days before the auction is to occur. They must also publish a notice in a newspaper for two weeks or three days in a row. The auction must take place between eight and 30 days after the first advertisement.
Unfortunately, if the sale does not cover all that is owed under the mortgage — that is, your home has lost value — the lender can demand that you pay the difference by filing for a deficiency judgment in court.
Note: The Coronavirus Aid, Relief, and Economic Security (CARES) Act, which provided mortgage payment relief — by postponing or ameliorating payments — as well as offering a 30-day foreclosure stay, expired on December 31, 2020. The new Congress may or may not decide to reinstate it.
Using Chapter 13 Bankruptcy
Bankruptcy carries with it an ugly connotation for many people, but it also offers a means to achieve a fresh start financially — and often a way to retain your home even if you've fallen behind on your payments.
A bankruptcy filing includes what is called an "automatic stay." This stay puts a hold on credit collection efforts and also on foreclosure proceedings.
The foreclosure process, if initiated already, may be delayed for a few months, but the lender can petition for a motion to lift the stay. If the lender has not yet proceeded with foreclosure and you're still missing payments, the lender can indeed proceed with the foreclosure process, though it may be somewhat delayed.
Chapter 13 allows the filer to reduce and consolidate their debts into one manageable monthly payment to be repaid in three to five years. Of course, to file for Chapter 13, you must first have enough income to pay the new debt load, but not enough to pay your pre-filing obligations. In other words, you must pass what is called a "means test."
If you file for Chapter 13 and you're behind on your mortgage, sometimes the amount that's past due can often be consolidated into the monthly payment along with your other debts. You'll still have to make your normal mortgage payment, but the past due amount can be repaid over the three- to five-year discharge period.
A Chapter 7 filing is trickier because it involves liquidation of assets, so your house may be sold to cover your debts. The Commonwealth of Virginia does allow an exemption for homeownership, so if your equity does not surpass the exemption threshold, you may be able to keep your home. Under new laws passed in 2020, the home equity exemption is $25,000 for an individual and $50,000 for a couple filing jointly.
Hire an Experienced Bankruptcy Attorney
Losing your home is one of the scariest prospects you can face in life, but there are ways you can seek to retain your ownership while getting a fresh start in life. Chapter 13 may be a viable option through which you can reorganize all your debts, consolidate obligations, come up with a workable payment plan, and move forward in life securely in your home.
Call us today at Vivona Pandurangi PLC for an initial consultation. We can discuss your options with you and advise a workable plan. We proudly serve clients throughout Falls Church, Alexandria, Arlington, Manassa, and Fairfax County, Virginia.