Hiding Assets in Bankruptcy
Oct. 28, 2022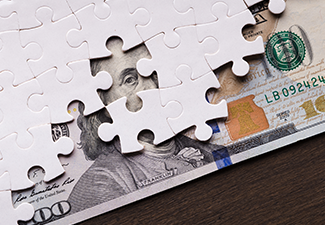 QUESTION: What do former baseball star Lenny Dykstra and TV "Real Housewife" Teresa Giudice have in common?
ANSWER: They both committed bankruptcy fraud and served time behind bars.
Granted, these celebrities' levels of income and debt, coupled with their notoriety and fame, made them prime targets for suspicion of fraud, but even the average Joe and Jane – who think they can hide assets and deceive the bankruptcy court – can get caught and often do.
Though the average person who commits bankruptcy fraud may not end up being charged criminally or face jail time, they can see their filing denied, their debts restored or never discharged, and they themselves being ordered to repay their creditors in full.
Fraud in bankruptcy generally involves an attempt to hide income or assets. If you hide enough income, you may not even qualify for bankruptcy in the first place – you make enough to pay your creditors. If you hide assets, the court will be unable to factor them into your personal financial situation to weigh how that affects your qualifications for a discharge of your debts.
Are you drowning in debt in or around Falls Church or Alexandria, Virginia? Contact the bankruptcy attorneys at Vivona Pandurangi, PLC to discuss your options. You may be able to reorganize your debts and pay them off at reduced value, or turn over your nonexempt assets to the bankruptcy court and walk away free of your unsecured debts.
Vivona Pandurangi, PLC maintains offices in both Falls Church and Alexandria and proudly serves clients in all neighboring areas and throughout the counties of Fairfax, Arlington, Prince William, and Loudon.
What Does Hiding Assets Mean?
The Legal Information Institute at Cornell Law School estimates that 70 percent of all bankruptcy filings involve some concealment of assets, so it is not an uncommon tactic for people to attempt to reduce their financial footprint, so to speak. Many times, these attempts are minor, but at other times, they rise to a higher level of deceit.
A common ploy is to transfer your assets to someone else – even to sell something at a reduced price – in return for an agreement to get the asset back when you've finished bankruptcy. This could involve transferring the title to one of your vehicles to an adult child or even to a friend who agrees to return it when you're free and clear of debt.
Another ploy is to misreport or conceal income. If you are in a profession or business that deals in cash transactions, it is certainly possible to keep some of the cash out of the accounting process – and in your pockets. Another way is to have your income paid to someone else, perhaps to an adult child or friend. Outright not reporting income and not listing it on your bankruptcy petition is also a possibility.
What Happens If You Get Caught Concealing Assets?
Your attempt at hiding income or assets can come to light in various ways: through an examination of public records, through online searches of social media accounts, or even from "red flags." Red flags might include any contradictory or suspicious statements or claims in the bankruptcy petition that warrant the trustee assigned to your filing to dig deeper.
If you are caught hiding assets, the court can have those assets seized from whomever currently possesses them and then sell them off to pay creditors. If it's unreported or underreported income that is uncovered, then your whole petition may be thrown out since you "suddenly" have enough money to repay your creditors, even if it involves a reorganization of those debts on better terms.
Your bankruptcy filing can also be dismissed outright. If the concealment, or fraud, is discovered after you've been discharged from your debts, the discharge can be reversed and you'll be ordered to repay your debts in full. You can even be barred from filing any other type of bankruptcy.
In a worst-case scenario, you can be referred for criminal prosecution for your fraudulent acts. If convicted, you could then face hefty fines and even jail time, as did Lenny Dykstra and Teresa Giudice.
Available Bankruptcy Exemptions to Protect Certain Assets
Both the federal bankruptcy code and Virginia bankruptcy statutes allow a bankruptcy petitioner to protect certain assets from a forced sale or seizure to pay creditors. Exemptions – meaning these assets are at least partially protected – cover your home, some personal property, vehicles, tools of the trade, and other assets up to a certain dollar value.
For instance, you can keep a car worth up to $6,000 under Virginia law. If your car is worth more than that, you would have to pay the bankruptcy court the difference, or the vehicle might be sold to access its equity to help pay creditors. Retirement accounts are 100 percent shielded from seizure – totally exempt, in other words – during bankruptcy proceedings.
Some people will attempt to undervalue these "exempt" assets in order to hold onto them or simply not list them on the bankruptcy petition in the first place. Or, as noted above, they may attempt to make fraudulent transfers or gifts of the assets with the goal of having them returned once the bankruptcy is over.
Let Vivona Pandurangi, PLC Help
Bankruptcy offers two basic options for dealing with overwhelming debt. One is called a Chapter 13 – or wage-earner's – filing. This means you have enough income to repay your creditors at least in part. Chapter 13 allows you to create a plan to repay creditors with your disposable income over a three- to five-year period.
The other option is a Chapter 7 – or liquidation – filing. Under Chapter 13, you can keep all your assets so long as you can pay for them under your reorganization plan. Under Chapter 7, any non-exempt asset is subject to being sold to repay creditors, at least partially. Chapter 7 is quicker and generally finished in a few months' time, after which you are discharged from your unsecured debts.
If you are drowning in debt and afraid to answer the phone for fear of another bill collector bugging you, it's time to take action and consider your bankruptcy options. Contact the bankruptcy attorneys at Vivona Pandurangi, PLC immediately. Let's discuss your situation and choose the proper bankruptcy plan that will provide you with a fresh financial start in life.