How Will Bankruptcy Affect Me in the Workplace?
Jan. 18, 2023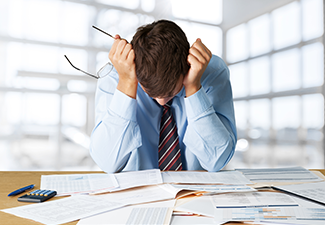 With prices of everyday items increasing faster than everyday people's salaries, accruing debt is easier now than ever before. If you've fallen behind on payments, it's fair to feel lost or confused about what to do. But, you should not feel alone. According to a study conducted in the fall of 2022, over 60% of Americans reported that they live paycheck to paycheck. That means a lost job or unexpected major purchase could be financially detrimental for three out of five people throughout the country.
While financial stress is a familiar concept to many, you have the right to explore your debt relief options. Perhaps you've considered bankruptcy but are nervous about how it could negatively impact your current job or future employment opportunities. This is a common concern, and our bankruptcy attorneys are here to help break down the relevant facts and misconceptions.
For immediate assistance, contact our law firm — Vivona Pandurangi, PLC — to schedule a complimentary consultation. We have offices in Falls Church and Alexandria, Virginia, and assist clients throughout Arlington, Fairfax, Manassas, and the surrounding areas.
Will Filing for Bankruptcy Affect My Current Job?
Your current job may be your primary source of income, a pillar that you lean on to keep up with as many bills as you can. So when you start exploring your bankruptcy options, the questions "How will bankruptcy affect my job?" and "Can my employer fire me for filing for bankruptcy?" are fair to ask.
Unless you directly tell your boss that you're filing for bankruptcy (or unless they frequent the court's public records system), it's not very likely that they'll find out about your bankruptcy in the first place.
But if they do, you can rest assured that, in most cases, filing for bankruptcy should not affect your current employment status. The U.S. Equal Employment Opportunity Commission (EEOC) makes it illegal for any employer to fire you or alter the terms or conditions of your employment solely because you filed for bankruptcy. If your employer ends up reducing your salary, demoting you, or firing you after learning of your bankruptcy — and no other fair reasoning is given — you may then be entitled to sue your employer for discrimination or wrongful termination.
As long as you proceed with your job's daily tasks as usual throughout the bankruptcy process and don't let it affect your punctuality or performance, filing for bankruptcy should not cause issue with your current employer.
Jobs That May Be Affected by Bankruptcy
If you're wondering, "Will bankruptcy affect my ability to get hired?" the answer is that it depends on the type of work you do, and the type of employer you're seeking employment with. While it's illegal to get fired from a current role solely due to bankruptcy, there are a few industries where your future job opportunities could be affected due to poor financial standing.
Law Enforcement
Professionals in law enforcement are trusted with access to highly sensitive pieces of evidence and information, including drugs and weapons that those with access could illegally take and sell under the table.
If you work or plan to work in law enforcement, your employer will run a tedious background check to ensure that you can be trusted with access to such materials and won't capitalize on it for your own benefit. If they find that your credit score is low due to bankruptcy, there's a chance they could use that information as reason to not trust you and, thus, to not hire you. Or, if they do hire you, they may stick you in a position with less authority and access.
Finance
If you're seeking employment in banking, accounting, payroll, or any job with easy access to money, it's common for employers to prioritize good credit scores when hiring. They will need your consent to run a credit check, but if you don't consent, they could choose to not hire you then and there. Bad credit usually precedes bankruptcy, and your score can drop after your bankruptcy claim gets approved, so this is important to consider if you work in finance and are looking into debt relief options.
Even if you work in these industries, bankruptcy may still be the best option for you. Don't let concerns about your credit score keep you from pursuing the career you deserve. When you have reason to think your financial standing could affect your current or future opportunities, remember that your credit score is simply one minor facet of your existence. If you emphasize your strengths throughout the hiring process, a bankruptcy or poor credit score shouldn't trump the experience and attributes you bring to the table. If a potential employer chooses not to hire you because of bankruptcy, it probably wasn't going to be a positive working experience in the first place.
Experienced Guidance You Can Depend On
To learn more about your bankruptcy options and how filing could impact your life or career, don't hesitate to contact us at Vivona Pandurangi, PLC. Our attorneys are passionate about providing Virginia residents with what they need to make confident and sustainable financial decisions. Reach out now to schedule a free consultation.
From our offices in Falls Church and Alexandria, Virginia, we proudly serve those throughout the communities of Fairfax County, Arlington County, Prince William County, and Loudon County.