Misconceptions About Student Loan Forgiveness
June 4, 2021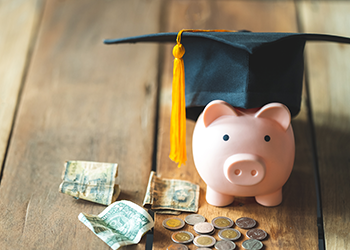 If you have a federal student loan, the government is currently forgiving all loan payments, foregoing collections on defaulted loans, and applying a 0% interest rate dating back to March 13, 2020, due to the COVID-19 pandemic. The program is slated to run through September 30, 2021, meaning no payments will be due before October 2021. Private student loans are not affected.
This program is providing a much-needed sense of relief for many borrowers who may have felt overwhelmed by the monthly payments they face to pay for their college education.
Are there other means to get relief from your student loan obligations? Programs do exist, but so do many misconceptions about what is and isn't possible.
If you need help with student loan issues, contact our team of consumer rights attorneys at Vivona Pandurangi, PLC, to schedule a consultation. We also proudly serve clients in Falls Church, Alexandria, Arlington, Fairfax, Manassas, Prince William, and Loudoun, Virginia.
Understanding Student Loans
Student loans can be federally issued through the Department of Education and its Office of Federal Student Aid, or they can be underwritten by private firms, including banks and financial institutions.
According to NerdWallet, the federal government has underwritten $1.74 trillion in student loans, compared to $138.57 billion by private issuers. Federal loans account for 42.9 million borrowers — 92% of the total.
As mentioned above, the Department of Education and the U.S. Congress have worked together to provide a window of relief for student debtors during the current pandemic, but this initiative does not apply to private lenders, who may or may not choose to participate.
The education department also offers several ongoing loan forgiveness programs, but they generally don't offer complete forgiveness except in certain cases. Private lenders generally offer few if any forgiveness or assistance programs, and often the best you can do is refinance the loan at a more favorable interest rate.
Common Myths & Misconceptions
Here are some of the common misconceptions among student loan borrowers that we've come across:
Myth: Student Loans Expire After Seven Years
Student loans never expire until they're paid in full. What you owe is going to remain your obligation unless you can qualify for a federal forgiveness program, which may forgive your loan totally after several years in public service, or because of your disability and inability to pay. (Remember, these programs apply only to federally backed loans and then usually only to certain types.)
Myth: Everyone Qualifies for Student Loan Forgiveness
This is true only for federally backed loans during the current pandemic. In pre- and post-pandemic times, forgiveness — in part and sometimes in full — is generally offered for those who work in public service, education, healthcare, and other fields, but it is contingent upon continuously working in one of those fields and making many years of payments before the balance is forgiven. Other programs can apply if you face total or partial disability or your income falls below your state's poverty level.
Myth: Student Loan Forgiveness Cancels the Balance
Generally, forgiveness does not zero out your balance except as noted above for those working in certain fields. For instance, if you work for a government entity or a non-profit company, you can apply for the Public Service Loan Forgiveness Program if you have a direct loan. After making 120 monthly payments, you may be eligible to have your balance forgiven.
If you're applying under the Teacher Loan Forgiveness Program, you can have $17,500 forgiven from your balance once you've worked for five years at a low-income, qualifying school. The program applies only to direct loans and the Federal Family Education Loan program.
Myth: Public Service Professionals Automatically Qualify
There are several programs — including the two mentioned above — that can help you reduce your obligations, but they are contingent upon continuous or mandated years of employment in the profession for which the program exists, and they do not always cancel the balance owed.
The NURSE Corps Loan Repayment Program will forgive 60% of your loan after working two years in an underserved community, another 25% for the third year. If you're in the last year of medical school, you can apply for the Students to Service Program, which will forgive up to $120,000 in loans if you commit to working as a primary health care provider at an approved site for three years.
Myth: Those Who Don't Qualify for
These Programs Have No Other Options
Not true, but again, the available programs will be based largely on your income and ability — or inability — to make your contracted payments. There is also the option of consolidating and refinancing your loans. With today's near-zero interest policy by the Federal Reserve, refinancing can lead to a considerable reduction in your monthly payment, but it will not reduce your balance due.
Two programs exist for low-income borrowers: Pay As You Earn (PAYE) and Income-Based Repayment (IBR). The PAYE program caps your monthly payment at 10% of your discretionary income but requires you to make at least 20 years of payments, after which the balance may be forgiven. IBR caps the monthly payment at 10-15% and requires payment for 20 or 25 years, depending on when you initially borrowed. Forgiveness is also possible when that period ends, but you also have to recertify your income regularly to stay in the program. If your income rises, then the original loan can be reinstated.
Seek Guidance from
Experienced Legal Counsel
Our attorneys at Vivona Pandurangi, PLC have been working with clients facing financial challenges for many years now. If you're facing difficulties with your student loan debt, please contact us immediately. We can help lead you in the right direction to get your debt under control. We have offices in Falls Church and Alexandria and serve clients throughout the region, including Fairfax, Arlington, Manassas, Prince William, and Loudon, Virginia.