Recognizing a Debt Relief Scam
Sept. 29, 2021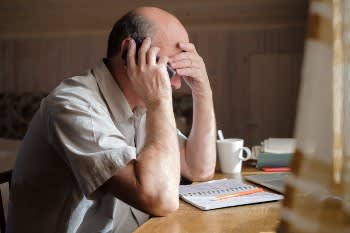 In March 2021, a student debt relief scam in Virginia resulted in the Equitable Acceptance Corporation paying some 700 residents $40,000 in restitution and canceling $50,000 in debt. The settlement resolved allegations that Equitable violated the Virginia Consumer Protection Act by making loans with illegal interest rates that were used by Virginians to purchase fake student debt relief services from companies that partnered with Equitable.
The Virginia Attorney General's office was able to uncover this scam and obtain relief for the victims, but debt relief scams operate all over the country. When someone's debt gets out of hand, scammers are quick to offer debt relief and will contact the debtors through any means possible, including mail, phone, text, and email.
Once you fall behind on your obligations and the offers for debt relief start pouring in, there are warning signs that can alert you to offers that are meant to scam you while offering no real relief.
If debt is overwhelming you, and you're in Falls Church, Alexandria, Arlington, Fairfax, or Manassa, Virginia, contact us at Vivona Pandurangi, PLC. Our attorneys are experienced in legal debt relief and can assess your situation to guide you toward the proper resources to avoid being scammed.
Debt Relief Scam Warning Signs
There are legitimate debt relief organizations that will be transparent with you and outline what steps you will need to take to resolve your obligations. They may be able to negotiate better terms with your creditors and set up a payment plan that can get you out of debt in a set amount of time, usually over a period of months or years.
There are other companies that purport to offer debt relief, but their intent is to use your suffering to their advantage by charging large fees and making promises they can't keep. A huge warning sign that you're about to be scammed comes when the debt relief organization asks for up-front fees before it settles any of your debt.
Other signs that you're about to be scammed include:
A guarantee that their service can eliminate your debt or reduce it by a certain amount in a set period of time.

Guidance for you to cut off all communications with your creditors.

A demand that you send them your credit card numbers and balances before they'll provide you with full disclosure of what their services entail.

Promises that a "new government program" can cancel, reduce, or forgive your debt obligations.

Promises that they can remove negative information from your credit report when it must stay there for at least seven years by law.
Be Proactive
If you do want to resolve your obligations through a debt relief program (rather than seeking bankruptcy reorganization or protection), do your homework. Check your state's attorney general's office to see if the company is legitimate. Some are nonprofit organizations that offer legitimate services for little or no cost.
The Federal Trade Commission requires debt relief organizations to spell out several "key pieces of information...both truthfully and clearly and conspicuously — either orally or in writing — before people sign up."
These key pieces include the cost of the services, length of time it will take to achieve the advertised results, how much money the creditor must set aside to meet their obligations, the consequences if timely payments are not made, and customer rights to any funds set aside, with the right to withdraw the money or quit the service at any time without penalty.
Make sure the debt relief organization you're considering makes full disclosure to you before you begin. It's better if it's in writing, but the FTC also allows oral disclosure.
How Experienced Bankruptcy
Attorneys Can Help
What these debt relief organizations offer you is similar to reorganizing your debts under Chapter 13 of the bankruptcy code. The major difference is that filing for bankruptcy provides you with legal protection.
To begin with, once you file, the bankruptcy court will issue an "automatic stay" that stops all creditor activity, including phone calls, repossessions, and foreclosures. The creditor contact ban is permanent, but creditors can seek relief to proceed with their repossessions or foreclosures if you don't resolve our secured loans promptly through bankruptcy.
Chapter 13 begins with an assessment of your disposable income and then works with creditors to reduce your obligations to meet what you have available to repay after your living expenses are taken care of. You then have three to five years to repay your consolidated obligations. After that, you'll be discharged from bankruptcy with a fresh financial start.
If you are facing financial stress in or around Falls Church or throughout Northern Virginia — or even in Washington, D.C. — contact us at Vivona Pandurangi, PLC to discuss your situation and see how Chapter 13, or another chapter of bankruptcy, could give you the relief you need.