What to Expect when Your Mortgage Forbearance Ends
Oct. 12, 2021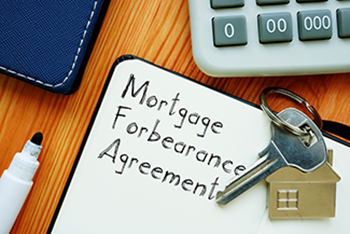 When the pandemic began in March of 2020, millions of people suddenly found their jobs and incomes either reduced or lost.
Those who owned homes suddenly faced foreclosure if they couldn't make their payments, but the federal government and its Coronavirus Aid, Relief, and Economic Security (CARES) Act allowed homeowners to seek 180 days of loan forbearance, meaning they had to make no payments. After that, they could request another 180 days. The payments were not forgiven, but rather pushed off to a future date.
However, the CARES Act forbearance program applied only to loans underwritten by federal agencies such as the Federal Housing Authority (FHA), Fannie Mae and Freddie Mac, the Veterans Administration (VA), and the U.S. Department of Agriculture (USDA). Private lenders could choose to comply or not.
Many of these original forbearance programs are now due and payable, though the government did offer an additional 180 days beginning in 2021. The Consumer Financial Protection Bureau (CFPB) reports that in April 2021, when the first wave of forbearance plans expired after 12 months, 600,000 fewer consumers were in mortgage forbearance than in January 2021. Still, there are more than 1.6 million homeowners in various phases of forbearance.
If you're in the Falls Church or Alexandria areas of Virginia, including the nearby communities of Fairfax, Manassa, Prince William, and Loudon, and you're experiencing difficulty exiting from forbearance, contact Vivona Pandurangi, PLC. Our attorneys can explain your options, help you devise a plan you can afford, and work with your lender on your behalf, if necessary.
Options When Forbearance Ends
If you've missed multiple months of payments under forbearance, the money must somehow be repaid. Fortunately, lenders cannot demand you pay a lump sum for the missed payments if the loan has been backed by federal guarantees. A lump sum, after all, could total thousands of dollars.
There are other options you can use to account for repayment of your skipped payments when forbearance ends. These include:
A REPAYMENT PLAN: Under this option, you will pay extra on your monthly mortgage payment until the forbearance portion has been satisfied.
DEFERRAL OR PARTIAL CLAIM: This could involve moving the missed payments to the end of your loan and extending the payment period, or creating a subordinate lien that will have to be repaid if you sell or refinance.
LOAN MODIFICATION: This could apply if you can no longer make your original monthly payment. The payments could be reduced and the loan extended to cover the original borrowed amount plus the forbearance amount.
REINSTATEMENT: This is the lump sum option, but as noted, a federally insured lender cannot force you to make a lump sum payment.
Different Agencies, Different Options
Remember, forbearance plans are governed by the federal agency insuring the loan for your lender. Each agency has a somewhat different view on which options lenders can offer. Here is a rundown:
FANNIE MAE AND FREDDIE MAC: Three options are available – a repayment plan, a loan modification, and a payment deferral.
HUD/FHA: In addition to loan modification, HUD/FHA lenders allow you to use what is called the COVID-19 Recovery Stand Alone Partial Claim. Under this option, a subordinate lien is placed on your home that must be repaid when you sell or refinance or when your mortgage terminates.
USDA: The lender will offer you either a repayment plan or an extension to add any missed payments to the end of the loan.
VA: Loan modifications and repayment plans are currently available, though the VA says it is evaluating other options.
Facing Foreclosure?
According to the CFPB, the number of seriously delinquent mortgage borrowers remains historically high, three times higher than before the pandemic. The agency reports that there are more than 1.9 million homeowners more than three months behind in payments or in active foreclosure.
To help homeowners who are facing foreclosure, the CFPB issued a new rule establishing three steps the lender must take before initiating foreclosure. The new rule is in effect until January 1, 2022. The steps required of the lender, depending on the circumstances, are:
To review a loss mitigation application submitted by the borrower to ascertain the appropriate action to take

To verify that the home has been abandoned before commencing foreclosure

To make a diligent effort to contact the homeowner before proceeding with foreclosure. If the homeowner is unreachable for 90 days and the mortgage payment is four months late, then foreclosure can begin.
Get the Answers You Need from Experienced Attorneys
If you face foreclosure, you need to examine all your options. Even if just the repayment, partial claim, or loan modification options make you nervous, you should reach out to those who are experienced in lending practices, mortgage rules and regulations, and government programs like the CARES Act.
We have dedicated our careers to helping people navigate troubled financial waters. We can consult with you, assess your situation, advise you of your best options, and represent you vigorously, if necessary.
Vivona Pandurangi, PLC proudly serves clients in Falls Church and Alexandria, Virginia, and throughout all surrounding communities. Don't hesitate to call.